ECCD-IP implementation in ASAPP areas evaluated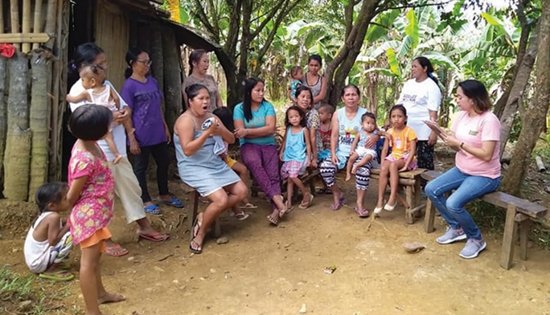 PNC Jennibeth S. Canete (right) together with Janice Bael conduct interview with ECCD F1K beneficiaries during an R-TAME team monitoring/evaluation of the village of Buenavista, Baybay City.
By JACK C. GADAINGAN, Nation Builder

June 17, 2019
TACLOBAN CITY – In three years of its implementation, the Early Childhood Care and Development - Intervention Package (ECCD-IP) for First 1000 Days (F1K), has really made some impact in the nutritional status of local people in the pilot area.
ECCD program coordinator Jennibeth S. Cañete, who headed the Regional Technical Assistance Monitoring and Evaluation (R-TAME) team, disclosed this in an exclusive interview with Nation Builder.
An R-TAME team composed of Cañete and Janice Bael of National Nutrition Council Region 8 (NNC-8) together with Saloma Guisulga, Elena Monteroso and Melodina Edullantes of the Visayas State University - Barangay Integrated Development Approach for Nutrition Improvement (VSU-BIDANI), conducted a monitoring and evaluation of the ECCD F1K implementation, down barangay level in the city of Baybay and the towns of Abuyog, Mahaplag and Hilongos all in Leyte 5th district on May 28-31, 2019.
"There has been a significant decrease of malnutrition in this city since the implementation of the Early Childhood Care and Development!" Baybay City Mayor Carmen L. Cari claimed in a State of Nutrition Address (SONA) on October 24, 2018.
The local government units (LGUs) of Abuyog, Mahaplag, Hilongos and Baybay are covered under the Accelerated and Sustainable Anti-Poverty Program (ASAPP) of the national government, a three-year intervention package being piloted in selected cities and municipalities (10 provinces nationwide) considered poor.
Health and nutrition is only one component of ASAPP, which aims to accelerate poverty reduction and boosting economic growth in the identified localities through public-private interventions, among which by tapping the skills and resources of the poor in enabling private enterprises to expand their production capacities and markets.
Meanwhile, focus on First 1000 Days congruent with the Early Years Act (RA 10410) refers to full range of health, nutrition, early education, and social services development program for the holistic needs of young children. It further narrows down the age-group on First 1000 Days of life, referred as "golden window of opportunity" for the child's growth and development--that includes the time of conception (pregnancy), until the baby is born and two years of age.
The primary and immediate objective of ECCD-IP F1K is to reduce maternal and child undernutrition, specifically at normal times: a. Promote optimum infant and young child feeding; b. Nutrition services in ante-natal care; c. Health services (prenatal, prenatal, immunization, management of childhood illnesses, reproductive health).
In emergencies: d. Vitamin A, iron, and iodine supplementation; e. Food fortification with vitamin A, iron, and iodine; f. Diet diversification; Increase food supply and improve physical and economic access to nutritious and safe food; and g. Early child learning and psychosocial stimulation.
---
DepEd policy on healthy food choices in schools pushed
By JACK C. GADAINGAN

June 10, 2019
TACLOBAN CITY – As school year 2019-2020 formally started in most public schools nationwide first week this month, with around 23 million out of the overall 27 million students enrolled in public schools, with 13.9 million pupils in elementary schools and some 8.2 million students in junior and senior high schools. Concerned nutrition advocates and parents are again pushing for the sturdier implementation of the Department of Education's (DepED) Order No. 13, s. 2017 "Policy and Guidelines on Healthy Food and Beverage Choices in Schools and in DepEd Offices."
The 8th National Nutrition Survey (Department of Science and Technology-Food and Nutrition Research Institute, 2014) showed that for children aged five to ten years old, 29.1% were underweight (low weight for his/her age), 29.9% were stunted (low height for his/her age), 8.6 were wasted (low weight for his/her age), and 9.1% were overweight (high weight for his/her height).
Earlier, the Regional Technical Working Group (RTWG) on nutrition in Eastern Visayas passed a resolution endorsing to the Regional Nutrition Council (RNC), for adoption and support among regional stakeholders the education agency's "Policy and Guidelines on Healthy Food and Beverage Choices in Schools and in DepEd Offices" during its 2nd Quarter Meeting on June 16, 2017. The body out rightly recognizing the feasible move in influencing the eating-habits to healthy choices for a big chunk of society, the school children--at least.
The DepEd order aims to promote and develop healthy eating habits among the youth and its employees by setting up food standards, and making them available at schools and DepEd offices, while banning the unhealthy others from learning premises. It also provides guidelines in the selling and marketing of foods and beverages in the subject places, including the purchasing of foods for school feeding program.
This current policy order revised some provisions of Order No. 8, s. 2007 entitled "Revised Implementing Guidelines on the Operational Management of School Canteens in Public Elementary and Secondary Schools," particularly Policy Statements Nos. 4.4, 4.5, and 4.6.
DepEd Order No. 13, s. 2017 categorizes food and beverages according to their Nutrition Facts, and color-coded all into the three colors of Traffic Light, which actually is what is intended and urged should be followed--on which GREEN means Go, YELLOW means Caution, and RED means Stop! Or don't!
The GREEN category includes foods and drinks that should always be available in the canteens, those which contain wide range of nutrients and generally low in saturated and trans fat, sugar, and salt. Described as: containing wide range of nutrients; saturated fat is less than 3 grams (more than half a spoon) per serving; no trans-fat; sugar is less than 10 grams (2 teaspoons) per serving; sodium is less than 120 mg (1/20 teaspoon salt) per serving.
Examples of drinks are: milk (unsweetened), safe and clean water (nothing added), and fresh Buko water (unsweetened). For energy-giving: milled rice, brown rice, oatmeal, wheat bread, cassava, kamote, saging, corn, boiled peanuts, suman, and puto. For body-building (grow): fishes, shellfish, small shrimps, lean meats, chicken without skin, nuts, eggs. And for body-regulating (glow): fresh fruits preferably those in season.
The YELLOW category includes foods and drinks that should be served carefully, maybe once or twice a week and in small servings, and should not be prominent in the menu. They are food ad drinks containing: saturated fat more than 3 to 5 grams (more than half a teaspoon to 1 teaspoon) per serving; no trans fat; sugar is more than 10 grams but less than 20 grams (2 to 4 teaspoons) per serving; and sodium is more than 120 mg to 200 mg (1/20 to 1/10 teaspoon salt) per serving.
Example of drinks: 100% fresh fruit juices. Energy-giving (go): fried rice, bread (white refined flour), biscuits, banana cue and camote cue, turon, pancakes, waffles, champorado, pancit, arroz caldo, sandwiches, butter, margarine, mayonnaise. Body-building (grow): processed food--meats/fish, hotdogs, sausage, burger etc. Body-regulating (glow): stir fried vegetables.
The RED category includes foods and drinks not recommended in the canteen menu, or should not be made available in schools and DepEd offices canteens. These foods and drinks contain: saturated fat more than 5 grams (more than 1 teaspoon) per serving; trans fat no matter the amount; sugar or carbohydrates more than 20 grams (more than 4 teaspoons) per serving.
Examples of drinks: soft drinks, alcoholic drinks, sports water, flavored mineral water, energy drinks, sweetened waters, powdered juice drinks, products containing caffeine (no for school canteens), processed fruit/vegetable juices with added sugar of more than 20 grams (4 teaspoons) per serving. Energy-giving: jellies, ice crushes, slushies, ice creams, ice drops, ice candies, cakes, donuts, sweet biscuits and pastries, sweet bakery products, candies, French fries, instant noodles, and heavily salted snacks. Body-building: chicharon, chicken skin, bacon, deep fried food including fish balls, kikiams, etc. Body-regulating: fruits canned in heavy syrup, sweetened fruits or vegetables or deep fried.
---
Save the Children Philippines says children have a right to cleaner air
Press Release

June 5, 2019
MAKATI CITY – Save the Children Philippines called for a clean and healthy environment in schools and communities to protect children from diseases and premature deaths due to air pollution.
The group raised the issue at the World Environment Day on June 5, citing around seven million people die every year across the world due to health problems caused by air pollution, 600,000 of them are children.
Lawyer Albert Muyot, Chief Executive Officer of Save the Children Philippines said learners spend an average of five to eight hours in schools, facing health risks from air pollution.
As classes opened last Monday, majority of children will be in schools for five days and will be exposed to air pollution and other health risks, said Muyot.
"Young learners have fragile bodies and exposure to tiny, invisible airborne particles from dirty air pose serious risks to their health," said Muyot.
Save the Children's End of Childhood Report 2019 ranked the Philippines 104th in the 176 list of best and worst countries to be a child due to high number of teenage pregnancy, malnutrition and child deaths before reaching five years old.
The report said malnutrition among Filipino children remains high at 33.4 percent – or 3.8m – children under five years not getting enough daily nutrition. It added that nearly three percent – or 322,000 – of children in the country die before their fifth birthday from preventable causes.
"Millions of children who lack daily nutrition are more susceptible to illnesses including pneumonia, bronchitis and asthma due to air pollution and face the risk of dropping out of schools," said Muyot. These children also face devastating and life-long health risks as air pollution can affect the development of their lungs, brain and other organs, he added.
Last year, the Philippines recorded the 3rd highest number of deaths due to air pollution with 45.3 deaths per 100,000 individuals, next to China as first and Mongolia as second. "Save the Children Philippines makes sure children have a healthy start in life," said Muyot.
It implements maternal and child health and nutrition services for children and pregnant and lactating mothers in deprived areas in the capital Manila and conflict-affected areas in Mindanao to address malnutrition. To prevent spread of diseases, the group provides clean water, hygiene and sanitation programs in public schools in the most deprived areas and during humanitarian response to natural disasters.
---
Nutrition evaluators training on MELLPI Pro conducted in Region 8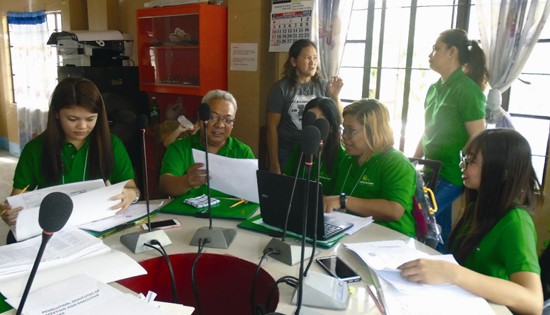 SIMULATION. Members of "Team C" conduct nutrition evaluation using MELLPI Pro at Bry. 37-A Palanog, Tacloban City during a practicum on the roll-out training on transition from MELLPI to MELLPI Pro on March 7, 2019.
By JACK C. GADAINGAN

March 11, 2019
TACLOBAN CITY – Thirty-six Nutrition Stakeholders from Eastern Visayas region actively involved in the yearly conduct of Monitoring and Evaluation of Local Level Plan Implementation (MELLPI) on nutrition programs and services gathered for a two-day roll-out training on the updated monitoring and evaluation protocol on nutrition dubbed "MELLPI Pro" on Mach 6-7, 2019 at the Commission on Audit (COA) Training Center, Palo, Leyte.
Attendees to the training were representatives from government agencies who are members of the Regional Nutrition Evaluation Team (RNET), Provincial Nutrition Action Officers (PNAO), District/City Nutrition Program Coordinators (D/CNPC), City and Municipal Nutrition Action Officers (C/MNAO), and some members of National Nutrition Council Region VIII (NNC-8) media-group partner Harmonized Initiatives of Media for the Spread of Good Nutrition in Region 8 (HIMSoG-8).
MELLPI Pro replaces the traditional MELLPI, the nutrition programs implementation assessment tool for localities adopted in the 80s. The said upgraded system emphasis: a) assessment of LGUs' progress toward compliance to quality standards, b) evidence-based validation, and c) mentoring through joint discussion for learning and action discussion with LGU or nutrition worker assessed. A new feature (of MELLPI Pro) is the Performance Assessment of Nutrition Workers namely: Nutrition Action Officers, District/City Nutrition Program Coordinators and Barangay Nutrition Scholars (BNSs).
This new protocol connoting professional, progressive, promotional, process, and profitable is for full implementation by 2020 – with this year (2019) as the transition period. By then under MELLPI Pro all local government units (LGUs) and their corresponding nutrition workers nationwide shall undergo assessment and evaluation:
At the regional level, the Regional Nutrition Evaluation Team (RNET) shall visit all provinces and highly-urbanized and independent cities; at the provincial level, the Provincial Evaluation Team (PET) shall visit all municipalities and component cities; at the city and municipal level, the City/Municipal Evaluation Teams (C/MET) shall visit all barangays. Meanwhile the National Nutrition Evaluation Team (NNET) shall evaluate the National Honor Award (NHA), and the 1st and 2nd Year CROWN Maintenance Contenders.
It was gathered that for Local Nutrition Workers, MELLPI Pro will be launched this year but will be used in 2020, however, the BNS Performance Evaluation will start this transition year (2019).
Niño Archie S. Labordo, NNC-8 officer-in-charge, who headed the panel of trainers for the nutrition evaluators Transition to MELLPI Pro, disclosed that MELLPI Pro roll-out trainings for the provinces in Region 8 will be conducted this month, March 2019.
---
HIMSoG-8 to boost NNC-8 social media page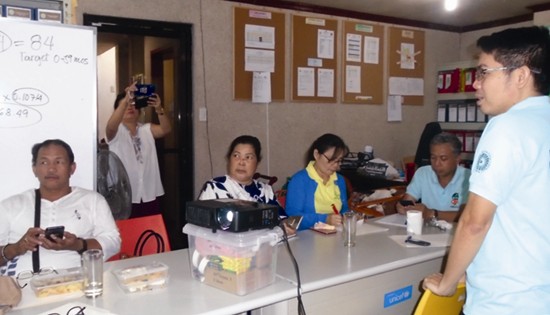 NNC-8 Nutrition Officer III Niño Archie S. Labordo briefs HIMSoG-8 members how they can help boost the nutrition office's webpage during the group's 1st quarter meeting on February 22, 2019 at NNC-8 region office.
By JACK C. GADAINGAN

February 28, 2019
TACLOBAN CITY – Help the National Nutrition Council Region 8 (NNC-8) boost its webpage by contributing more nutrition-related articles, feature stories and pictures, net-engaging, liking, sharing and tagging, and inviting researchers to hunt nutrition information on the webpage.
This was the consensus of the Harmonized Initiatives of Media for the Spread of Good Nutrition in Region 8 (HIMSoG-8), a NNC-8 media-group partner, after a brief Social Media Enhancement Workshop conducted during its 1st quarter meeting held at NNC-8 office on February 22, 2019.
Instead of launching its own social-media engagement on "Winning the 2019 Election in Nutrition through SocMed" as previously planned, workshop resource speaker and HIMSoG-8 member Sarwell Meniano suggested to strengthen in its place the already existing NNC-8 webpage.
Niño Archie S. Labordo, NNC-8 Nutrition Officer III, said while in the past years the NNC-8 webpage was fifth from the bottom – as compared to similar webpages of nutrition offices of other regions, last year (2018) Eastern Visayas was already in the middle of the hierarchy based on internet analytics, with Region 7 (Cebu) and Regions 1 and 2 on the lead.
"There is a big change to catch up with them, to date if there is a most improved webpage it is NNC Region 8," Labordo said, as he invited everybody to actively contribute accurate and relevant articles.
In this connection the nutrition regional office here provided the HIMSoG-8 membership with the latest Operation Timbang Plus 2018 results of 0-59 and 0-71 month old children per municipality, city, and province in Eastern Visayas categorized weight for age, height for age, weight for length/height and summary, and probable topics/subjects to write which are national-focus of the month, for example for March – Rabies Awareness Month, International Women's Month, International Women's Day, and World TB Day that could be given slant related with nutrition.