Flores puts weight to partnership with media
ASec. Flores (center) with Tacloban City mayor Alfred Romualdez and NNC-8 regional coordinator Carina Santiago, during the opening ceremony of the 1st Eastern Visayas BNS Congress.
By JACK C. GADAINGAN

August 8, 2011
TACLOBAN CITY – If we can change attitudes and practices in the rural community to adopt good nutrition with the help of the media and the programs that we fund, this will be a big improvement not only to immediate family that for example practices exclusive breastfeeding of 0-6 months old babies, but to the whole community as well.
Department of Health (DOH) Assistant Secretary Maria-Bernardita T. Flores, Executive Director of National Nutrition Council (NNC), stated this during an interview with the NNC-8 media group partner Harmonized Initiatives of Media for the Spread of Good Nutrition in Region 8 ( HIMSoG-8 ).
Asst. Sec. Flores further said to in order to mitigate hunger and improve nutritional status, the NNC has the responsibility to promote good nutrition but it cannot do it alone. That is why we are having alliances with the media because education through various media forms is more potent, broader and far-reaching, and immediate.
As we cannot go to every barangay in every town of the country, reaching our frontliners on nutrition through community radio broadcast and advocacy reports in newspapers is a big help to enhance the BNSs' knowledge, which they could transfer to families in their respective communities, she averred.
She said if you cannot convince a mother to breastfeed her infant because she could not be reached with the right information through media for example, all the time she would stick to the thought that breastmilk substitute is good for her baby as what advertisement says. And as long as this persists, there will be no improvement because for one the money intended to buy healthy foods will go to the purchase of milk – not knowing she (mother) herself has the natural resource of the exact milk her baby needs.
Flores revealed that even with a modest budget, support for the promotion of good nutrition is still prevalent through the other government programs linked to nutrition: One is the Pantawid Pamilyang Pilipino Program (4Ps) for the indigent families, where money is infused to them to enable them to meet the most basic of all needs, which is food, and if well-fed, chances are they would improve their nutritional status. Other forms of government support intend for children go to school, for the pregnant to afford medical checkup, for the child to be immunized, breastfeeding up to weighing of child to see if they are well nourished – all these are linked to nutrition, Flores explained.
Meanwhile, the NNC Executive Director said that the Magna Carta for BNS drafted by DOH-CHD VIII Director and Chair of the Regional Nutrition Committee, Dr. Edgardo M. Gonzaga to strengthen the BNS program once passed in Congress is really good, as the Barangay Nutrition Scholar in the barangay will have better working conditions, including security of tenure. Their hardship in providing dedicated services to the barangay, which is present only on voluntary status, will be justly compensated. The proposed law will also provide for uniformity in qualifications, responsibility, benefits, and reward system, Flores elaborated.
---
Region 8 Barangay Nutrition Scholars attend congress!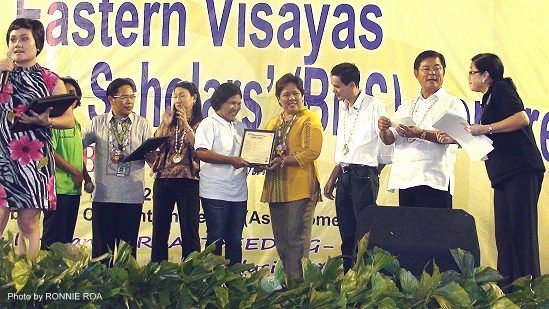 By NATION BUILDER

August 7, 2011
TACLOBAN CITY – The fully packed Tacloban Astrodome reverberated with cheers and applause coming from more than 3,500 Barangay Nutrition Scholars (BNS) as Department of Health (DOH) Assistant Secretary Maria-Bernardita T. Flores mentioned a provision in the Senate Bill 2397 which is to provide a P5,000 monthly allowance for Barangay Nutrition Workers.
Senate Bills No. 9 and 2397 or "An Act Creating the Position of Barangay Nutrition Worker in Every Barangay, Providing Incentives Thereto Appropriating Funds Therefor, Amending for the Purpose Presidential Decree 1569" authored by Senators Loren Legarda and Ramon "Bong" Revilla Jr., when passed, will make the position of the BNS – that shall be called Barangay Nutrition Worker (BNW) a mandatory position in the barangay.
Assistant Secretary Maria-Bernardita T. Flores, also Executive Director of National Nutrition Council (NNC), was Keynote Speaker in the First Eastern Visayas Barangay Nutrition Scholar Congress held July 28, 2011 at the Tacloban City Convention Center. The summit, which bannered the theme "BNS: Bida ng Sambayanan", was attended by Barangay Nutrition Scholars from all over the region.
House Bill 2889 entitled "Strengthening the Barangay Nutrition Scholar Program" authored by Agham Partylist Rep. Angelo Palmones and likewise his House Resolution 592 entitled "A Resolution Directing the Retention of Barangay Nutrition Scholars in Service to Help Pursue the Achievement of the Millennium Goals", were other revelations of Asst. Sec. Flores, in her address, that drew euphoria from the audience.
Flores explained that with the help of Cong. Palmones, the Department of Interior and Local Government (DILG) has issued a Memorandum Circular 2010-147 directing the barangay captains nationwide to retain and re-appoint the trained barangay workers and BNS in order to utilize their skills, knowledge and experience, instead of training anew new uninitiated barangay workers.
But the highlight of the one-day BNS affair was the turnover of a draft Magna Carta of BNS from Region 8 BNS Federation President Lydia Nuñez to the Region 8 legislators represented by Southern Leyte lone district Cong. Roger G. Mercado for its support and passage in Congress.
The Magna Carta for BNS, drafted by DOH Regional Director Edgardo M. Gonzaga, once legislated will institutionalize the BNS. It was learned the DOH director likewise had solicited the support from all the congressmen of Eastern Visayas for the passage of said measure that will not only benefit the BNSs in the region, but the BNSs nationwide.
The 1st Eastern Visayas BNS Congress was conducted as the culmination of this year's Nutrition Month celebration in the region with the theme: "Isulong ang BREASTFEEDING-Tama, Sapat at EKskusibo!"
---
Daram mayor pledges to cut down malnutrition incidence
By NATION BUILDER

July 22, 2011
DARAM, Samar – From a high of 32% malnutrition prevalence last year, we are targeting to lower this down to 5% this year. Daram Mayor Lucia L. Astorga declared this during the conduct of HIMSoG Media Caravan on Nutrition to this island town July 12, 2011.
HIMSoG-8, which stands for "Harmonized Initiatives of Media for the Spread of Good Nutrition in Region 8" is the media group partner of the National Nutrition Council (NNC) Region 8 in Promotion of Good Nutrition in Eastern Visayas. Together with NNC officials, representatives of Plan Philippines and provincial nutrition officer conducted a caravan to the island town as among the Nutrition Month activities in July 2011.
While the province of Samar ranks first in malnutrition incidence in Region 8 at 24% prevalence rate, the municipality of Daram ranks only 17th in the provincial standing at 21.98% prevalence rate (based on 2010 OPT). Topnotch is Tarangnan with 36.93% and in second is Matuguinao with 36.5%.
Daram became a HIMSoG Media Caravan choice stopover due to its good practices worthy of emulation. As it gives priority to health and nutrition of its constituents, it opens up to several partners in adopting numerous interventions to uplift the nutritional status of the town. Among them are Zuelig Family Foundation that focuses on health and the Plan Philippines that focus on children.
NNC Region 8 Director Carina Santiago said she is happy that nutrition is a priority in Daram, and that the local government unit has many partners, and that there are so many interventions in the municipality. We can document these good practices, she said.
A continuous intervention program in the island town is the feeding of the severely malnourished children in targeted barangays. Feeding of each batch is conducted daily for two months at two-meals a day.
Another one is making available cheap nutritious food packs for children in the locality with the production of INSUMIX, which is actually a mixture of rice, sesame seeds, and mongo. With the support of partner institutions like Zuelig Family Foundation – that provided the equipments and utensils for local production of INSUMIX; and another partner likewise that has trained one barangay in the municipality to plant sesame seeds – as well provided the seeds of sesame seeds for planting, INSUMIX is underway.
Also established in the municipality, even before the 4Ps of the national government, is the empowerment vehicle called Mobile Kosina: This is the training of mothers specifically the families of severely malnourished children on gardening, which is currently being strengthened not only to sustain the nutrition of children, but as well as an added livelihood activity.
It was learned that with the Mobile Kosina, that is now ready for registration with the DOLE, a five pesos worth of vegetables are now made available at the barangays for the village people.
---
Media nutrition caravan storms Samar towns
By NATION BUILDER

April 11, 2011
TACLOBAN CITY – The National Nutrition Council (NNC) Region 8 together with its media group partner "Harmonized Initiatives of Media for the Spread of Good Nutrition in Region 8" (HIMSoG-8) dramatized the importance of good nutrition in life in a two-day caravan to the province of Samar.
The activity underscored Good Nutrition as essential to healthy living, as it sought to enlist the provincial, municipal, and local leaders' commitment of support for the program right at their doorstep.
The Caravan first stop was in the capital town of Catbalogan, where the provincial officials and other nutrition stake holders were given a briefing on the Samar Provincial Nutrition Situation: The province ranks first in incidence of malnutrition in Eastern Visayas region at 24% prevalence rate, it was learned.
NNC-8 Director Carina Z. Santiago presented the NNC's Assistance to the Province of Samar and turned over a prototype Height Board and other community-based information materials to the provincial government unit; Ronald Calaogon likewise presented the Plan International Philippines' assistance to Samar; and media group HIMSoG, NNC and the provincial officials together signed a Pledge of Commitment to support the Promotion of Good Nutrition in Samar.
Provincial Legal Officer Anatacio Yong signed in behalf of Gov. Sharee Ann Tan-de los Santos for the Province of Samar, HIMSoG President Francis Batula for the media group, Carina Z. Santiago for NNC-8, Totch dela Cruz and Dr. Esther D. Miranda for Plan International. Heads of provincial offices, nutrition stake holders, and other members of media group present also all signed the covenant.
The Caravan second stop was in the town of San Jorge where likewise, the municipal officials headed by Vice Mayor Marcelina Yu and townspeople present were briefed on their municipality's Nutrition Situation, as the media group made known the purpose of the Caravan's visit to the town.
Nutrition Services conducted in San Jorge were: Nutrition Exhibit; Supplemental Feeding of children and parents; film showing on Busog Lusog; Assessment and Diet Counseling by Nutritionist-Dietitians Association of the Philippines (EV Chapter); and Nutri-Quiz and Raffle with prizes giveaways.
Third stop was in the town of Calbiga on the second day (March 31, 2011), where the gathering was conducted at the Calbiga Visitors' Center and the municipal officials headed by Mayor Melchor F. Nacario and townspeople were also presented with the nutrition situation of the municipality.
Mayor Nacario expressed his appreciation for the media playing a catalyst for success in government programs like Promotion of Good Nutrition. And after the short messages delivery of Nutrition Services was immediately conducted where
HIMSoG President Francis Batula, Mayor Nacario and NNC Director Santiago spearheaded the supplemental feeding of nutritious porridge to the town's people present. HIMSoG President Francis Batula made all the presentations of the Media Group and the statement of purpose of the Media Caravan by HIMSoG Vice President for Print Sarwell Meniano; briefing of Nutrition Situation was given by District Nutrition Program Coordinator Felecita Borata and Provincial Nutrition Action Officer Alva Ma. Gadin for the Samar province, by Public Health Nurse Salvador Paquit for San Jorge town, and by Municipal Nutrition Action Officer Evelyn P. Jabonete for Calbiga town.
---
Anti-hunger pro-nutrition media group is born
By NATION BUILDER

March 26 2011
TACLOBAN CITY – A group of media practitioners from media outlets around Eastern Visayas has taken up cudgels in the fight against hunger and malnutrition in Region 8 through media power.
Calling itself "Harmonized Initiatives of Media for the Spread of Good Nutrition in Region 8" (HIMSoG-8) the organization has partnered with the National Nutrition Council Region 8 (NNC-8) and taken up an active role on Promotion of Good Nutrition.
Initially named "Region 8 Anti-Hunger Pro-Nutrition Media Group" the organization was given birth in Sabin Beach Resort in Ormoc City on August 27, 2010 during a regional media organizational and planning workshop sponsored by NNC-8.
Steering its course are HIMSoG officers: President Francis Batula (DYDW), Vice President for Print Sarwell Q. Meniano (Leyte Samar Daily Express); Vice President for Broadcast Jimmy Angay-angay (DYVL); Vice-President for Online Media Vicente Alejandro S. Labro (LSDE); Secretary Tito Acbo (TV5); Treasurer Ronnie C. Roa (GMA 7, Ormoc); Auditor Cecilia P. Tibo (DYOG-Radyo ng Bayan).
In addition to these seven elected officers, who also are Board of Directors, are Jack Gadaingan (Publisher, Nation Builder), Evelyn Batic (Owner, An Aton Channel), Tony Pueblos (Station Manager, DYOG Calbayog), Ray Gaspay (Publisher, Samar News.com), and all six PIA Provincial Information Center Managers.
HIMSoG aims to: Provide overall communication support to the government on the Anti-Hunger Mitigation Program (AHMP) and on Promotion of Good Nutrition (PGN); Serve as a coordinating body that will orchestrate the formulation, monitoring and evaluation of a communication action plan in support of the AHMP and PGN, and the updating of such plan if and when necessary; Champion anti-hunger and pro-nutrition initiatives through the effective and optimum utilization of airtime and newspaper space; and Act as the regional conglomerate of communication talents and skills to be tapped for persuasive communication that will result to positive behavioral changes in people towards a hunger and malnutrition-free communities.
The group who are all principled and development oriented media practitioners, has drawn up its Communication Action Plan for the current year, and already conducted one of its major activities: two-day Media Caravan to the Province of Samar.