Nutrition evaluators training on MELLPI Pro conducted in Region 8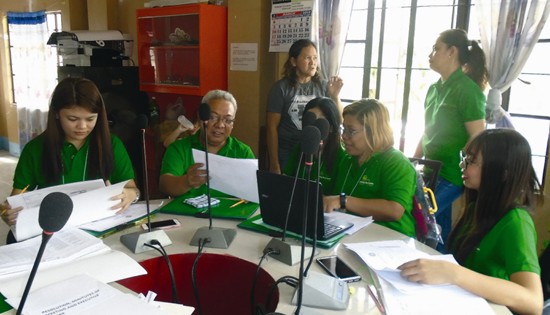 SIMULATION. Members of "Team C" conduct nutrition evaluation using MELLPI Pro at Bry. 37-A Palanog, Tacloban City during a practicum on the roll-out training on transition from MELLPI to MELLPI Pro on March 7, 2019.
By JACK C. GADAINGAN

March 11, 2019
TACLOBAN CITY – Thirty-six Nutrition Stakeholders from Eastern Visayas region actively involved in the yearly conduct of Monitoring and Evaluation of Local Level Plan Implementation (MELLPI) on nutrition programs and services gathered for a two-day roll-out training on the updated monitoring and evaluation protocol on nutrition dubbed "MELLPI Pro" on Mach 6-7, 2019 at the Commission on Audit (COA) Training Center, Palo, Leyte.
Attendees to the training were representatives from government agencies who are members of the Regional Nutrition Evaluation Team (RNET), Provincial Nutrition Action Officers (PNAO), District/City Nutrition Program Coordinators (D/CNPC), City and Municipal Nutrition Action Officers (C/MNAO), and some members of National Nutrition Council Region VIII (NNC-8) media-group partner Harmonized Initiatives of Media for the Spread of Good Nutrition in Region 8 (HIMSoG-8).
MELLPI Pro replaces the traditional MELLPI, the nutrition programs implementation assessment tool for localities adopted in the 80s. The said upgraded system emphasis: a) assessment of LGUs' progress toward compliance to quality standards, b) evidence-based validation, and c) mentoring through joint discussion for learning and action discussion with LGU or nutrition worker assessed. A new feature (of MELLPI Pro) is the Performance Assessment of Nutrition Workers namely: Nutrition Action Officers, District/City Nutrition Program Coordinators and Barangay Nutrition Scholars (BNSs).
This new protocol connoting professional, progressive, promotional, process, and profitable is for full implementation by 2020 – with this year (2019) as the transition period. By then under MELLPI Pro all local government units (LGUs) and their corresponding nutrition workers nationwide shall undergo assessment and evaluation:
At the regional level, the Regional Nutrition Evaluation Team (RNET) shall visit all provinces and highly-urbanized and independent cities; at the provincial level, the Provincial Evaluation Team (PET) shall visit all municipalities and component cities; at the city and municipal level, the City/Municipal Evaluation Teams (C/MET) shall visit all barangays. Meanwhile the National Nutrition Evaluation Team (NNET) shall evaluate the National Honor Award (NHA), and the 1st and 2nd Year CROWN Maintenance Contenders.
It was gathered that for Local Nutrition Workers, MELLPI Pro will be launched this year but will be used in 2020, however, the BNS Performance Evaluation will start this transition year (2019).
Niño Archie S. Labordo, NNC-8 officer-in-charge, who headed the panel of trainers for the nutrition evaluators Transition to MELLPI Pro, disclosed that MELLPI Pro roll-out trainings for the provinces in Region 8 will be conducted this month, March 2019.
---
HIMSoG-8 to boost NNC-8 social media page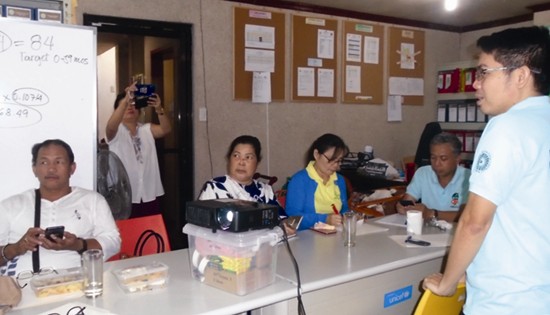 NNC-8 Nutrition Officer III Niño Archie S. Labordo briefs HIMSoG-8 members how they can help boost the nutrition office's webpage during the group's 1st quarter meeting on February 22, 2019 at NNC-8 region office.
By JACK C. GADAINGAN

February 28, 2019
TACLOBAN CITY – Help the National Nutrition Council Region 8 (NNC-8) boost its webpage by contributing more nutrition-related articles, feature stories and pictures, net-engaging, liking, sharing and tagging, and inviting researchers to hunt nutrition information on the webpage.
This was the consensus of the Harmonized Initiatives of Media for the Spread of Good Nutrition in Region 8 (HIMSoG-8), a NNC-8 media-group partner, after a brief Social Media Enhancement Workshop conducted during its 1st quarter meeting held at NNC-8 office on February 22, 2019.
Instead of launching its own social-media engagement on "Winning the 2019 Election in Nutrition through SocMed" as previously planned, workshop resource speaker and HIMSoG-8 member Sarwell Meniano suggested to strengthen in its place the already existing NNC-8 webpage.
Niño Archie S. Labordo, NNC-8 Nutrition Officer III, said while in the past years the NNC-8 webpage was fifth from the bottom – as compared to similar webpages of nutrition offices of other regions, last year (2018) Eastern Visayas was already in the middle of the hierarchy based on internet analytics, with Region 7 (Cebu) and Regions 1 and 2 on the lead.
"There is a big change to catch up with them, to date if there is a most improved webpage it is NNC Region 8," Labordo said, as he invited everybody to actively contribute accurate and relevant articles.
In this connection the nutrition regional office here provided the HIMSoG-8 membership with the latest Operation Timbang Plus 2018 results of 0-59 and 0-71 month old children per municipality, city, and province in Eastern Visayas categorized weight for age, height for age, weight for length/height and summary, and probable topics/subjects to write which are national-focus of the month, for example for March – Rabies Awareness Month, International Women's Month, International Women's Day, and World TB Day that could be given slant related with nutrition.