45th Nutrition Month launched in Tacloban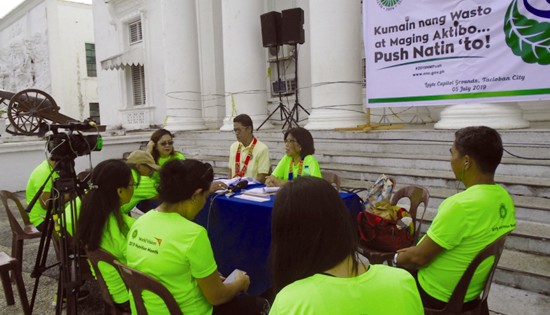 PRESSCON. A press conference followed the thematic talks of the 45th Nutrition Month during its launching at the capitol grounds on July 5, 2019.
By JACK C. GADAINGAN

July 24, 2019
TACLOBAN CITY – Around 200 nutrition stakeholders in Eastern Visayas literally walk-the-talk as directed by the 45th Nutrition Month theme, "Kumain nang Wasto at Maging Aktibo…Push Natin 'to!" by braving a slight drizzle to embark on an early morning Walkathon of approximately five kilometers in order to revel the regional launching of this year's Nutrition Month on July 5, 2019 at the capitol grounds, here.
This rain and sweat drenching warm up was followed by another 30-minute session of Zumba prior to the unfolding of the more cerebral slanted activities.
Dr. Catalino P. Dotollo Jr., Regional Nutrition Program Coordinator (RNPC) of National Nutrition Council Region VIII (NNC-8), in his opening message, said this year's Nutrition Month theme focuses on two viable: Kumain ng wasto – which is healthy diet, and Maging Aktibo – that is encouraging increased physical activity and reduce sedentary behavior. Push Natin 'to! because we would want to pursue this activity beyond July and even 2019, he said.
In Kumain ng Wasto, Dotollo explained to eat balanced food particularly a variety from the three basic food groups Go, Grow and Glow – referring to Pinggang Pinoy where the Glow composes 50%, and Go and Grow another 50% of the whole meal; in Maging Aktibo, to engage more in physical activity and not just be sitting (idle). The RNPC cited recent studies baring trend of non-communicable diseases getting higher in the country and even in Region 8, particularly on cases of obesity and overweight. He recommended home gardening as a productive way to being active.
Leyte Gov. Leopoldo Dominico L. Petilla, in a message delivered by former Vice Gov. Nestor "Gangang" Villasin, paid tribute to the local government officials who, despite the insufficient resources, are still able to provide their constituents with the best possible nutritional care. I want to congratulate you for your innovative health and nutrition programs, he said.
Regional Director Minerva P. Molon, Department of Health Region VIII (DoH-8), said this year's Nutrition Month theme is just fitting, because as we journey to fight our battle in addressing double-burden-malnutrition in the region, data shows that while we are making progress in reducing under nutrition such as wasting and stunting, overweight and obesity is also increasing across all ages, and majority of our adults are physically inactive!
A press conference initiated by the Philippine Information Agency (PIA) in coordination with NNC-8 media-group partner Harmonized Initiative of Media for the Spread of Good Nutrition in Region 8 (HIMSoG-8) followed the thematic talks.
The launching program was capped with a "Nutrimizing Race," that was participated per-agency and nutrition-stakeholder groups present.
Meanwhile, it was learned that the four FM radio stations established by the NNC in Eastern Visayas have conducted a simultaneous "Nutri Eskwela Radio Program – Nutrition Month Launching" on July 1, 2019. These are the Radyo Kabulig based in San Policarpo town and Radyo Kauswagan based in Borongan City both in Eastern Samar province, and Radyo Kasugbong in Catubig, Northern Samar and Radyo Kausbawan based in Palompon, Leyte.
Further it was gathered that a series of activities have been lined up for the month-long celebration among them: an "Asin Summit" on July 26, 2019 and a "Barangay Nutrition Scholar Day" on July 30, 2019.
---
LGUs urged to submit approved Annual Investment Plan with nutrition allocations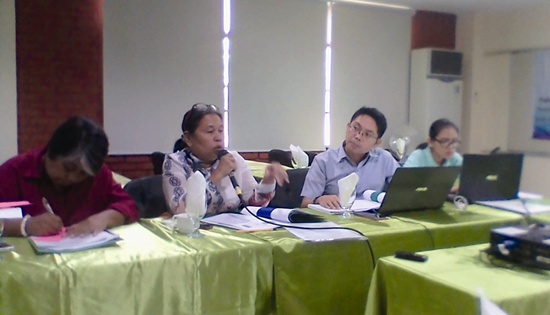 The joint NRTWG, P/CNAOs and D/CNPCs second quarter meeting, held on June 11, 2019 at the COA Training Center, Palo, Leyte. The body reiterated the call for LGUs representatives to submit to NNC-8 the approved year 2019 Annual Investment Plan (AIP) from their respective LGUs.
By JACK C. GADAINGAN

July 18, 2019
TACLOBAN CITY – Department of Health Region VIII (DoH-8) Regional Nutrition Program Manager Felecita R. Borata called on the lead-nutrition workers representing local government units (LGUs) to submit to the National Nutrition Council Region 8 (NNC-8) the approved year 2019 Annual Investment Plan (AIP) from their respective LGUs.
This came about after Niño Archie S. Labordo, NNC-8 Nutrition Officer III, presented the status of 2019 AIP submissions from Philippine Plan of Action for Nutrition (PPAN) focus areas. Reportedly the LGUs that have submitted their approved 2019 AIPs are: the towns of Caibiran, Biliran, Villareal, Tarangnan, Sta. Rita and Daram, and the Province of Northern Samar.
No submissions yet were received from the provincial LGU of Biliran and its six remaining municipalities; the provincial LGU of Samar including its two cities and 20 municipalities; 22 municipalities of Northern Samar; and the provincial LGU of Eastern Samar, its capital city and 22 municipalities.
This was gathered during the Joint Nutrition Regional Technical Working Group (RTWG), Province/City Nutrition Action Officers (P/CNAOs) and District/City Nutrition Program Coordinators (D/CNPCs) first quarter meeting held on March 1, 2019 at Alejandro Hotel, here.
The same call was reiterated during the same RTWG, P/CNAOs, and D/CNPCs joint second quarter meeting held on June 11, 2019 at the COA Training Center, Palo, Leyte.
The four provinces considered as focus-areas for the implementation of PPAN 2017-2022 in Region 8 are: Eastern Samar, its component 22 municipalities and one city; Northern Samar and component 24 municipalities; Samar and component 24 municipalities and two cities; and the island-province of Biliran and eight component municipalities.
The integration of Local Nutrition Action Plans (LNAPs) into the Local Development Plans and AIPs of LGUs ensued when Department of Interior and Local Government (DILG) Secretary Eduardo M. Año, issued Memorandum Circular 2018-42 dated 26 March 2018 sustaining: the Adoption and Implementation of the Philippine Plan of Action for Nutrition 2017-2022, stipulating the guidelines on the roles and responsibilities of DILG field offices and LGUs in the implementation of the PPAN.
The memo-circular enjoins LGUs to formulate their local nutrition action plans (LNAPs) – based on PPAN 2017-2022 programs applicable to their respective localities, and to include them in their Local Development Plans and AIPs, to ensure adequate funding for nutritional impact.
As this developed, it was clarified that the nutrition status of a local government unit (LGU) will be an additional dimension in the conferment of the "Seal of Good Local Governance (SGLG)," thereby accordingly prioritizing nutrition outlay in LGUs' AIPs starting Fiscal Year (FY) 2019, might in fact be a healthy investment for localities.